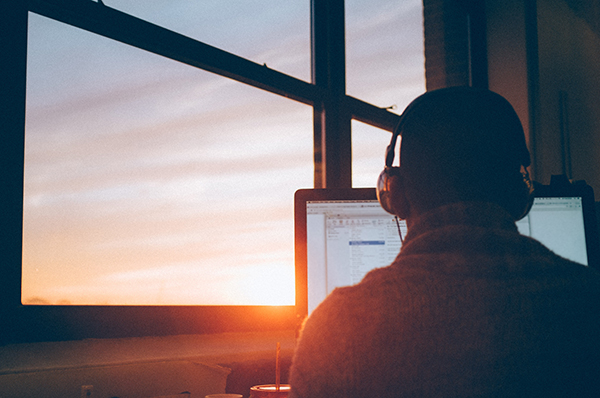 In the final part of our series "You're Bilingual and Want to Work in the Language Industry," we will focus on our transcription services; we have previously written about our
oral interpretation services
and our
written translation services
. The title of our series may not be completely accurate, because not only do we provide multilingual transcription services, which incorporate elements of both written translation and oral interpretation, we also transcribe audio/video files into English.
This article covers both multi-language and English-only transcription services and provides insight as to what language companies look for when acquiring new linguists. It also gives tips on getting started in the industry.
Transcription Work May Seem Easy, but It's Not
To be profitable as a freelancer, you must type quickly and accurately (75 wpd or better). From there, the basic premise of transcription work is relatively simple; type what you hear. While it seems relatively straightforward, it's never as easy as it sounds. Like anything, skill is still involved, and that needs to be developed over time and practice. Not all audio recordings are made in optimal settings, so it takes a skilled ear to pick out a discernible conversation with a lot of excessive background noise. It takes practice to effectively follow a fast-paced conversation.
To help you prepare for a career in transcription services, getting involved with industry organizations will provide you with resources, training and guidance to help you progress in your career. Some of the leading organizations are:
Do Your Research
Conducting research seems a simple concept, but one that needs to be reiterated. Having background information and doing a little bit of research can go a long way when completing transcription work.
If you are not a football fan, would you recognize the name of the star defensive tackle, Ndamukong Suh? Would you know the term "jawn" if you were not from the Philadelphia area? The correct spellings of city and street names can be difficult to determine if you are not familiar with the area or don't take the time to look at a map.
Knowing the correct spelling and local terms may not make your transcription work stand out, but inaccuracies certainly will make it noticeable for all the wrong reasons. Take the extra time to make sure your work is accurate.
Tools of the Transcriber Trade

The wrong tools can make any job more difficult and the same holds true for transcription. One of the main tools that we recommend for new transcribers is Express Scribe from NCH Software (http://www.nch.com.au/scribe/index.html).
Express Scribe is a program that allows you to play files while creating a Word transcript at the same time. It has a free version for you to download and try, an intuitive interface for easy use, and allows customization of settings for audio/video playback. Additional functionality can be purchased for a reasonable fee. While Express Scribe allows using "hot keys" on a standard keyboard for playback manipulation, a USB foot pedal is recommended as the most efficient way to play audio. These are priced at $50 and up and are a great investment.
Security also is a prime concern with dealing with transcription files, as our transcription projects rely on strict adherence to confidentiality parameters. We require our transcribers to delete project files once they are complete and delivered to us. However, deleted files are not necessarily removed from your hard drive, but rather the reference of the file is removed. The file is still there until it is overwritten, which may not happen in the immediate future. Using a digital shredding program will overwrite the file multiple times before it deletes the file, adding an additional layer of protection. Eraser (https://eraser.heidi.ie/) is free digital software that provides that additional layer of security to make sure that confidential files are properly deleted.
Finally, it would be remiss not to mention that successful transcription depends on a high quality set of headphones. You need good headphones to make sure you're hearing all audio, and cheap earbuds are not going to pick up everything.
We hope you have found our guidance to careers in the language industry helpful over the past three articles. If you would like to apply as an interpreter, translator or transcriber for Para-Plus, please fill out a request form at http://www.para-plus.com/linguists. If you have any direct questions, please feel free to send us an email at para-plus@para-plus.com.