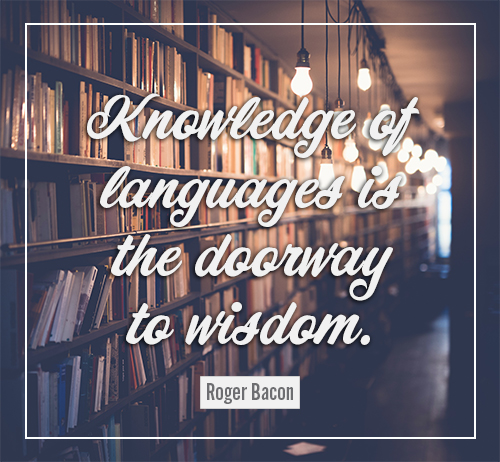 Roger Bacon, the 13th Century English philosopher, wrote, "Knowledge of languages is the doorway to wisdom." When that doorway is bolted shut because of language differences, no company is better equipped to open it than Para-Plus Translations, Inc. And the need for those language services is growing like never before.
Earth's circumference may remain unchanged at 25,000 miles, but globalization of business and the expansion of the internet and other technologies have caused the world to become undeniably smaller. Today, people of different languages and cultures are working in concert in business, education, finance, government, health care, legal services and law enforcement, and many more industries. They are doing so across board room tables as well as oceans; our once wide world has evolved into a global neighborhood.
But after the introductions, pleasantries and handshakes are done, how does the financier who speaks only Sino-Tibetan communicate with his counterpart who speaks only Afrikaans? How does the police detective in Germany communicate to authorities in Japan his findings regarding a joint investigation? How do the non-English-speaking parents of a child enrolling in U.S. schools interpret documents sent to them by their child's new teachers?
They turn to Para-Plus Translations.
Since its founding in 1980, Para-Plus Translations has been recognized as a leading provider of comprehensive global translation, interpretation, transcription, voice-over, sign language and Braille services in more than 100 languages. We have performed services for the Federal Bureau of Investigation, Internal Revenue Service, U.S. Attorney's Office, U.S. Department of Homeland Security, U.S. Department of Justice, colleges and universities, insurance institutions, and leading medical centers and hospitals and law firms throughout Pennsylvania, New Jersey and Delaware.
Para-Plus Translations has developed relationships with hundreds of dedicated, highly qualified foreign language linguists who are specialized in a diverse number of areas. They assist clients in breaking down communication barriers to build lasting relationships with multicultural contacts, every hour of every day of the year.
Given the growing diversity of the U.S. population, interpreters and translators today are more indispensable than ever. They represent bridges of clarity and understanding across rivers of unfamiliarity. In an industry driven by language, it is the numbers that reveal plenty.
Citing data from the U.S. Department of Labor, the American Translation Association, of which Para-Plus is a member, found the number of people employed in the language industry has doubled over the past seven years, and the number of companies in the industry has increased by 24 percent. By 2024, the data estimates, there will be an increase of 29 percent, to 78,500 interpreters and translators, underscoring the growing need for such services. A key ingredient that will distinguish Para-Plus Translations from others is its unshakable track record of quality services for more than a third of a century.
The largest expected growth in the industry, according to ATA President David Rumsey, will be within contracted, or freelance, positions, affording workers and companies like Para-Plus Translations added flexibility.
Para-Plus Translations stands ahead of that curve, employing a number of experienced contracted interpreters and translators who specialize, as do our full-time employees, in idiomatic correctness and cultural accuracy. By securing the services of these highly trained, carefully vetted, native-speaking contractors, Para-Plus Translations can reduce overhead costs and pass savings onto its clients.
Encountering the locked door of language difference that restricts the flow of knowledge and understanding can be maddening. But Para-Plus Translations holds the key to unlocking that door, with cost-effective, high quality interpretation and translation services in hundreds of foreign languages, available when clients need it.